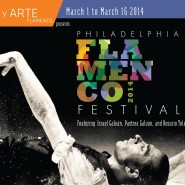 Querida Familia,
We are so excited to announce the official website of the 2014 Philadelphia Flamenco Festival [www.philaflamencofest.org] running from March 1-16!
You won't want to miss Israel & Pastora Galván in their first Philadelphia appearances, performing with "The King of Compas", Bobote, to the soulful sounds of Inés Bacán. The incomparable Rosario Toledo who will make her triumphant return to Philly performing Vengo, with winner of the Giraldillo Prize of toque (guitar), Dani de Moron!
The Festival will offer free master classes with Israel Galván, Pastora Galván and Rosario Toledo, and symposiums and compelling discussions after performances to enhance your experience. Through the films of Carlos Saura, the Festival will take you into the diverse world of flamenco through "Flamenco Hoy!" and "Blood Wedding".
Our easy-to-navigate website spotlights a full festival calendar, which includes maps and locations of all festival events. Information about our featured artists and educational components, as well as a full box office to purchase all of your festival tickets are just a click away! To connect with us during this exciting time, make sure to visit our interactive blog page, which will introduce you to artists, educators and audience members. Remember to "like" and "follow" us on Facebook, Twitter and Instagram for behind-the-scenes images of the Festival!
All 8 of the 2012 Festival performances SOLD OUT! Make sure purchase your tickets HERE today!
Due to a high volume of requests, we are asking participants to register for Master Classes with our featured artists HERE.
Hasta muy pronto– see you at the Festival!!
Elba Hevia y Vaca, Artistic/Executive Director