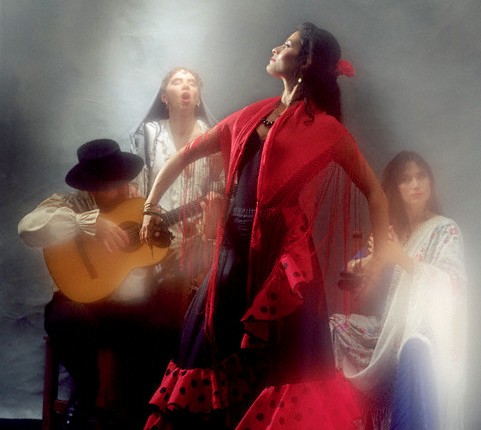 Flamenco Dancewear
Contributed by Joy Grassman, 2005
Authentic quality flamenco apparel is difficult to find in the US. If you can find someone locally to make your apparel for you, you will be much happier with the outcome. By and large, pre-manufactured flamenco clothes are designed for tall, slender dancers. Professional flamenco dancers always have their clothing custom made. You are best off ordering from someone that will custom-tailor your clothing. I am a very thrifty person, so for me to suggest something like that means I really mean it! Flamenco attire is very expensive, so you do not want to make a mistake.
There are a few companies that have generic "flamenco" costumes made from Lycra, but they are not even close to being authentic.
It is also noteworthy to add if you order from outside the US, any textiles (fabric goods) will have a tariff that must be paid.
Most companies do NOT include the tariff in their list price because rates change and it would be difficult for them to estimate. If the price is not included in the list price you will receive a bill for the textile tariff in the mail from a 3rd party non-governmental administrator. Ugh. I discovered this first hand when I ordered a manton from Spain last year. But it was worth the effort because I got a beautiful product in the end!
Some suggestions for finding apparel right for you:
Talk to your teacher- Your teacher is your best resource. Someone has to make their ropa flamenca! Find out who it is. Hopefully it is someone local. At the very least they can point you in the right direction. The problem with flamenco clothing is that you need a seamstress that knows specifically about flamenco costumes. Because patterns for flamenco dresses are not available in this country, it would be very difficult for someone who is not familiar with this style of clothing to make something authentic.
Go to Spain- after the Feria de Sevilla in April, all the flamenco dress makers have huge sales. If you are lucky enough to have the opportunity to go to southern Spain at this time of year, you can really score big! Because flamenco fashions vary widely from year to year, flamenco dresses have big discounts during the post-feria period. In the US, no one will ever know you've got a "year-old" dress and you'll have something beautiful and totally authentic.
If you can't go yourself, maybe you might know someone who you trust who is planning a trip to Spain. You may just get lucky!
Internet Retailers:
Flamenco Export- gets my vote for the website having the best selection of prefabricated performance quality flamenco costumes. Limited alterations are included in the price. They also offer a wide selection of inexpensive flamenco jewlery, hats and other accessories. Their shawls are absolutely magnificent!
My manton from FE is pictured right. The products are represented accurately on the website. The only place you might find better quality Spanish shawls is if you go to Spain in person.
I really recommend Flamenco Export because I've had great experiences with them. Sr. Miguel Sanz has always been helpful and understanding when I've had a problem or a question. Shipping is extremely prompt.
Flamenco-World- Once again Flamenco-World is a very reputable company to deal with that has a decent selection. They have a good selection of practice skirts from Menkes and other companies which prefabricated but you can have the length altered at no additional cost. They also have several performance dresses available for special order and some lovely shawls. I've noticed a slight delay in shipping sometimes when I order from them.
Menkes has now updated their website and you can also order directly from them online. They are a fantastic company to buy from. If you prefer to have the option of speakign with a person you can speak to Yolanda or Marisa at their shop in New York City. More contact info on their website.
River's Edge Dancewear- Ok. If my warning about buying prefabricated Lycra flamenco clothing was not enough and you're really stubborn and you're going to cheap out and buy it anyway, this is the place to order from. River's Edge has the most complete line of StarStyled Lycra flamenco dance clothing. StarStyled will do special order alterations, but does not start from scratch and make custom costumes. River's Edge is a nice company to deal with and a good middle-man. Notice, I am endorsing River's Edge rather than Star Styled itself. Nuff said.