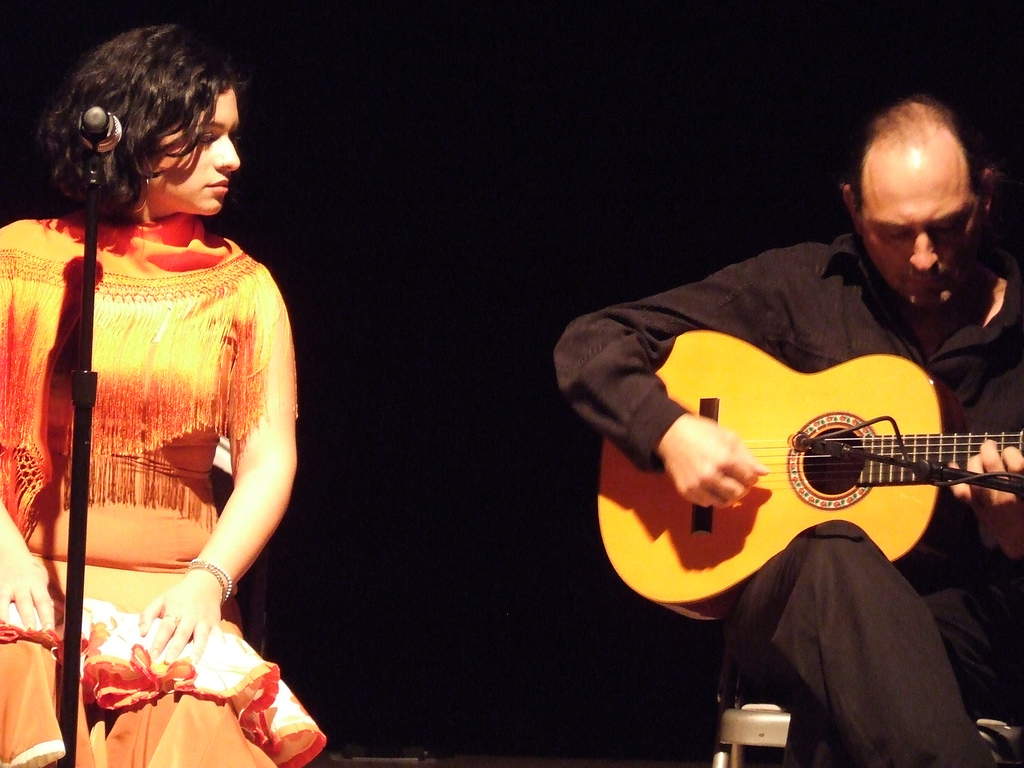 Flamenco guitarist Hipolito (Tito) Rubio was born in 1954 in Monsagro, Spain, a small village in western Salamanca, about thirty miles from the border with Portugal. He remembers seeing his grandfather playing the tamborin (drum) and flute in town processions, as well as playing castanets and dancing the jota, a regional traditional dance. He also remembers hearing brass bands, attending fiestas, and playing with gypsy children when he was small.
Rubio's father was a music aficionado and was the first to put a guitar in his hands, a toy guitar bought in Madrid as the family was on its way to a new life in Australia.
In the early 1960s many Spaniards emigrated to Australia, Tito Rubio's family among them. Rubio eventually settled in Melbourne, which had a large Spanish population; they remained in that city for almost thirty years, where Rubio started to play guitar, studied flamenco with Manolo Varela and others, and eventually became active as a performer in the city's Spanish community. As his knowledge grew, he appeared on radio and TV broadcasts in Australia, and became known as something of a boy wonder for his abilities.
In the early 1980s Rubio began to accompany singers and dancers, which requires a distinct set of skills, as well as continuing to play solo. In the mid-1980s he married an Australian-born Spanish dancer and relocated to Spain, where he was exposed to traditional flamenco families for the first time and studied with some of the world's greatest guitarists.
From 1986 through the early 1990s, Rubio immersed himself in flamenco life, taking every opportunity to observe and participate in classes, performances, and flamenco gatherings in fiestas and bars.
One of his principal teachers at this time was Juan Maya Marote, of the famous Marote gypsy clan, and Rubio says that to this day, other guitarists recognize Marote's style in his playing, particularly in his strong rasqueados, a particular type of strum-flourish that uses all the fingers. He also studied with David Serva, an American who has been accepted as an authentic player among flamencos in Spain. Rubio accompanied dance classes in flamenco studios in Madrid for Ciro, who is recognized as one of the greatest dancers and teachers in the country. In the early 1990s Rubio had the opportunity to tour internationally as part of Juan Maya Marote's company. In 1995 he toured the United States and worked for several months with Maria Benitez' Teatro Flamenco in New Mexico. It was on this trip that he met his current wife and artistic partner, Philadelphia native Anna Arias Rubio.
Rubio falls between two generations of flamencos. The older generation tended to apprentice with a single master and had a broader knowledge of regional flamenco styles in Spain, while their playing style was not flashy. The younger players, says Rubio, are technical virtuosi, sometimes incorporate influences from jazz and blues, frequently learn to read music, and may specialize in just one aspect of flamenco playing: solo performance, accompanying singers, or accompanying dancers. Yet, except for the genuine young masters such as Domingo Ortega (Rubio's friend and colleague), their repertoire is more generic and limited. Rubio is engaged in an ongoing process of understanding and performing his art. While he says the flamenco life is not possible in the same way in Philadelphia as it was in Spain, he remains dedicated to sharing the beauty of the art with all.
Rubio has worked with the Folklore Project in several Musicians in Residence projects, and in the Dance Happens Here project for 2007, in which he performed with his wife Anna Rubio and their company, Flamenco del Encuentro. He received a fellowship in folk and traditional arts from the Pennsylvania Council on the Arts in 2004 and a Pew Fellowship in the Arts the same year.