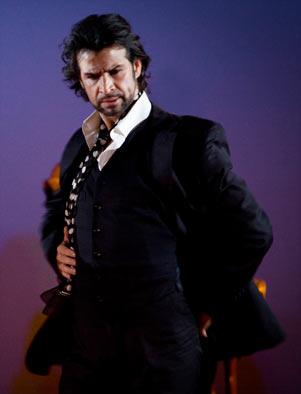 Share
Flamenco del Encuentro presents:
Antonio Hidalgo direct from Spain!
THREE opportunities to see ANTONIO HIDALGO performing with Flamenco del Encuentro in the Philly area:
May 4th – FIRST FRIDAY FLAMENCO at BAR FERDINAND
Take advantage of this rare opportunity to see Antonio Hidalgo in the intimate tablao setting of BAR FERDINAND.
Three sets 7:30, 8:30 and 9:30 no cover!
Sets at 8, 9, 10 no cover, but reservations strongly suggested!
MAY 12th – SECOND SATURDAY at MATADOR RESTAURANT
Sets at 7:30, 8:30 and 9:30 no cover, but reserve early- this place gets seriously packed!
Details and directions can be found on our Events Calendar

Antonio Hidalgo began dancing professionally in Flamenco festivals in Córdoba, Spain. From 1984 until 1989 he was a member of the Spanish Ballet of Carmen Mota, touring Italy, France, Montecarlo, South America, Miami and several venues in Spain.
He has also performed with the Ballet of Antonio Gades, the Ballet of Jose Greco, Maria Benitez Estampa Flamenca and in Tokyo with Tablao El Flamenco. With his own company he has performed in various venues in Japan and Spain. In 1990, as an independent solo dancer, he worked in Costa del Sol with various companies and flamenco "tablaos".
He has directed and choreographed several shows including "Fiesta de Andalucia" in Spain and for the "Palais des Beux Arts" in Brussels. Since 1998 Antonio Hidalgo has been working with Flamenco Vivo Carlotta Santana. His new works include Mano a Mano, Bailaor-Bailaora and Bailes de Ida y Vuelta premiering, to great acclaim, at The Joyce Theater in New York City.
In 2004 he began co-directing "Aroma Flamenco Dance Company" with Inmaculada Ortega in Madrid. In 2007 he was awarded the "Premio Andaluz" for Artistic achievement of Cordoba, Spain.