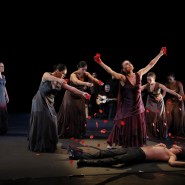 One of the most critically hailed Flamenco companies in the world today returns to Dance Celebration at Annenberg Center Live with an electrifying interpretation of an ancient Greek heroine. Soledad Barrio & Noche Flamenca bring their latest creation, Antigona, a full-length work, based on Sophocles' heroine.
Performances take place Thursday, November 20 at 7:30 PM, Friday, November 21 at 8 PM and Saturday, November 22 at 2 PM and 8 PM at the Annenberg Center, 3680 Walnut Street. Tickets are $20-$75. For tickets or for more information, visit AnnenbergCenter.org or call 215.898.3900. Tickets can also be purchased in person at the Box Office. Dance Celebration is presented by Dance Affiliates and Annenberg Center Live.
Sizzling flamenco ignites the stage as this company of dancers, singers and musicians presents an authentic look at a complex and mysterious art form. Direct from Spain, Soledad Barrio & Noche Flamenca provide a passionate journey through the very heart and soul of flamenco. Hailed by critics everywhere for its transcendent and deeply emotional performances, Noche Flamenca is one of the most traditional flamenco companies in the world today, and Soledad Barrio its star. In a unique creative partnership, this company has joined forces with acclaimed American theater director Lee Breuer to create a new work, Antigona, based on Sophocles' ancient Greek heroine. Combining live music, song and dance, Noche Flamenca's Antigona brings the fiery, expressive nature of flamenco to one of the world's great tragedies in a full-length production that promises to be both gripping and intensely moving.
Spain's most successful touring flamenco company Soledad Barrio & Noche Flamenca is coming to Philadelphia November 20-22 at the Annenberg Center with the East Coast debut of "Antigona."
Critics are calling Antigona "exciting, passionate, uplifting, and achingly human" (Broadway World) with star Soledad Barrio applauded as "a natural force" (New York Times).
As the Flamenco group of Philadelphia, we would love to see you at the show! Tickets are $20-60 and can be purchased by calling the Box Office at 215-898-3900 or online at annenbergcenter.org. Additionally, group sales can be arranged for ten or more and receive 15% off single ticket prices.
If you are interested I would love to talk to you more. Please call 215-636-9000 ext 109.