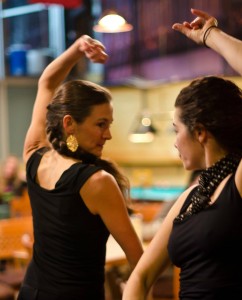 Fall Semester Schedule: September 8th- December 22nd.
Come join us!
BASIC BEGINNER FLAMENCO
Saturday 11:00am-12:30pm
The beginning student is introduced to the simpler palos (rhythms) of flamenco through a series of specific studies:
Technique:
Flamenco posture
Torso and shoulder exercises for flamenco movement
Exercising the wrist, palm and fingers (hand movements)
Exercising the head and arms
Basic head and arm positions
Exercising the hips
Putting the exercises into sequence
Postures for footwork and basic blows
Sequences of footwork with body and skirt movement to the various flamenco rhythms
Exercises of palmas (hand clapping) to increase rhythmic understanding
Sequences of movements with application of all the above in the various flamenco palos and cante
CHILDREN'S BASIC BEGINNER
Saturday 12:30pm-1:30pm
Applying all of the above specifics on Flamenco Technique using simple imagery and interactive approach
ADVANCED BEGINNER
Wednesday- 7:30pm-9:00pm
The advanced beginner has some experience in Flamenco and understands concepts of the posture, arm and hand positions.
Building on these concepts we will explore connecting all these components to larger phrases por alegrias, tangos and bulerias de Cadiz.
We will study different palmas to the various palos.
Incorporate footwork technique with arms and body movements
INTERMEDIATE/ADVANCED
Tuesday 7:30 pm – 9:00 pm
Prerequisite: Basic knowledge of the various flamenco palos (rhythms), including Soleares, Alegrias, Tangos. Students use the dance steps and techniques they have acquired in BEGINNING FLAMENCO to get closer to performing these dances properly. Students learn more complex arm and body movements and more complicated footwork. Particular emphasis is placed on:
Strengthening the student's familiarity with the compas using more difficult footwork techniques
Creating more complex arm movements and coordinating them with the footwork
Understanding the structure of a dance
Learning to comprehend the communication between singer, dancer, and guitarist that takes place in a dance and the structure of a dance
Beginning to understand the concept of improvisation by applying all of the above.
The cost per class is $15 or you can purchase a 6 class card for $78.  Student and professional scholarship and discounts available upon request.  No classes will be held during Fall break from November 19-24th. If you have any questions please feel free to contact me via email (info@pasionyarteflamenco.org) or you can also reach me at 267-235-5685.
All classes are held at the  6411 Overbrook Garage Studio, Philadelphia, PA 19151.