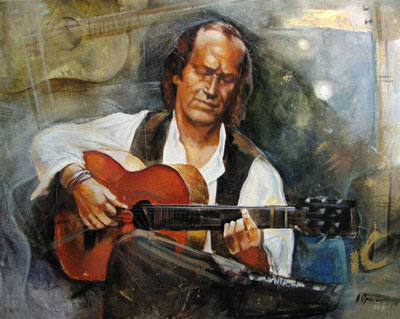 Contributed by Kelli Moore 
It may have seemed like your ordinary Tuesday night in Center City, but on April 10th, some very lucky Philadelphians were transported to the heart of Spain.
On this very special night, Paco de Lucia, arguably the greatest flamenco guitarist of all time performed at the Kimmel Center.
This was the first time in over five years that De Lucia was touring the U.S., which made this performance anything less that extraordinary. De Lucia (born in 1947), who has been playing since the age of twelve, has released over twenty-five recordings, as is heralded for his innovative approach to flamenco music. His presentation at the Kimmel center showcased many of the highlights of his extensive career.
The first selection began with a striking guitar solo. De Lucia's playing is fiery, a perfect blend of dramatic climaxes paired with soft moments. It is vivid and bold, while at other times subdued. Not only is De Lucia a master of the guitar, he is also a master of disguise.
While De Lucia's repertoire consists of the standard palos, or styles, categorizing flamenco music, even the most seasoned "aficionados" found themselves lost when trying to determine the palo during De Lucia's solo.  Was De Lucia performing a fandango de Huelva? Or was it a Malaguena?  De Lucia is unlike many flamenco guitarists for his innate ability to weave seamlessly between the extensive forms and meters of flamenco without missing a beat.
Not only was the Philadelphia public treated to seeing De Lucia play live, they also had the chance to witness some of the most talented musicians in Spain. De Lucia is accompanied by an ensemble of some of the greatest contemporary artists including percussionist Israel Suarez, Piraña, bassist Alain Perez, keyboardist Antonio Serrano, singers Duquende and David de Jacoba, and supporting guitarist Antonio Sanchez Palomo.
This band complemented De Lucia's guitar playing with their unique jazz-influenced sounds. The group also included world-renowned flamenco dancer Antonio Fernandez Montoya, better known as Farruco, who enthralled the audience with his distinct dance style of intense zapateado, charismatic appeal, and powerful stage presence.
The show's hour-long set consisted of old and new favorites, some of the songs coming from his latest release, Cositas Buenas.  The show concluded in the rousing cheers from the audience and shouts of "Otra! Otra!" The crowd was not leaving without demanding an encore. After a brief respite, the ensemble returned once again to perform one of DeLucia's most popular songs, "Volando voy", a bright and upbeat rumba much to the delight of the audience.
After the show, I had the pleasure of speaking to some of the concert-goers. One of these people was Gonzalo, a native of Venezuela, with a warm demeanor and infectious smile. "I have been a fan of Paco's for as long as I can remember. I also am curious to know which songs he will play during his concerts. Because I play the guitar myself, I am always trying to learn from him, and he always keeps me surprised!"
As the crowd began to clear the auditorium in preparation for another day, many left much happier and inspired from when they came. Not only were they treated to a concert, but a once-in-a lifetime experience they would not would soon forget. Thanks again to the Kimmel Center for bringing such amazing acts to Philadelphia and creating awareness about the art of flamenco to our city.