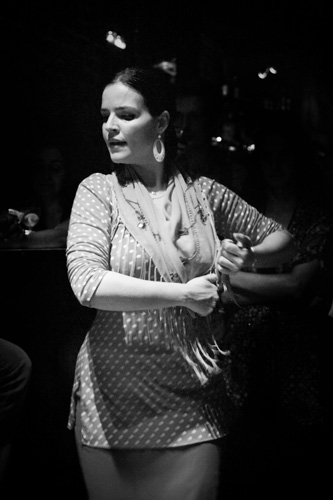 Monica Herrera was born in Philadelphia to Cuban parents who migrated to the US in 1961. Her dance training began at an early age in classical ballet, tap and jazz. During her first trip to Spain at the age of 12, she became interested in Flamenco and began her training in Philadelphia with Julia Lopez. She went on to become a company member and soloist with Flamenco Ole dance company.
She later co-founded the Philadelphia-based Flamenco troupe Pasión y Arte.
She has studied with many wonderful teachers in Spain and New York, including Alejandro Granados, Yolanda Heredia, Alicia Marquez, Raquel Heredia, La China, Omayra Amaya and La Meira.
Monica has been a cover dancer for Franco Zeffirelli's production of "Carmen" at the Metropolitan Opera House in New York for the 2004, 2005 and 2008 season.
She participates in Arts in Education Programs with Andrea del Conte Danza España and Carlota Santana Flamenco Vivo conducting lecture-demonstrations and residency programs throughout the tri-state area.
Pictures are courstesy of Photographer Hernan Valle.