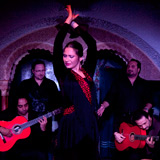 Featuring some of Flamenco's greatest stars, this evening will represent the true spirit of the dance in all its fiery glory!
Directed by Ángel Rojas, witness four of the world's most celebrated Flamenco dancers including virtuoso Antonio Canales, Nuevo Ballet Español, choreographer Carlos Rodríguez, beautiful and riveting performer Karime Amaya (grandniece of legendary Carmen Amaya), and the young starlet Jesús Carmona.
---
Kimmel Center Presents
Gala Flamenca Featuring Antonio Canales, Carlos Rodríguez, Karime Amaya, and Jesus Carmona Merriam Theater
Sunday, March 2nd – 7pm
Kimmel Center Members enjoy a 10% discount on this event with Promo Code KCMEM1314

$5 off all seating for Gala Flamenca on March 2nd with promo code
GFLAMENCA
Click on the image above to be taken to the promo page.