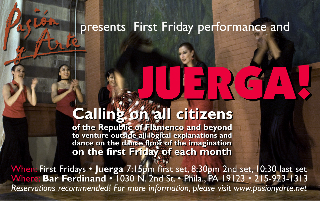 What is a Juerga?
A "juerga", very much resembles a jam session because of its improvisational qualities, is still the best way of communicating the essence of traditional flamenco. There is no distinction between audience and performers and everyone takes part in the event and supports each person in the playing, dancing, and singing. A "juerga flamenca" can attain the qualities of a ritual of religious proportions. 
Typically, at a "juerga" flamenco aficionados and others encouragingly shout out "ole" during unusually inspired moments and support those dancing with rhythmic hand clapping called "palmas". This spontaneous behavior is comparable to an audience exclaiming "Yeah, man" during a jazz session and the atmosphere and camaraderie are much like that of a southern American gospel services.
The unique component in Pasión y Arte's juergas is that the invitation to participate is open to all genres of music, singing, dance, and spoken word. The goal is to create new flamenco languages from different traditions. Special guests musicians and dancers – both professional flamencos, students, aficionados, artists from other Latino and non-Latino traditions – are invited to each juerga! We are also adding a  30 minute free Sevillanas class at 6:45!! This Friday we are pleased to have from NY Barbara Martinez in cante (voice) and Jose Moreno in toque (guitar)from Philly Kumiko Koide and Artistic Director/Teacher/Choreographer Elba Hevia y Vaca and hopefully you!!
Reservations are suggested if you are planning to have dinner, otherwise come join us at their beautiful bar while we perform and jam.
Sets are at 7:15, 8:30 and 10pm. For reservations and additional information call 215-923-1313.