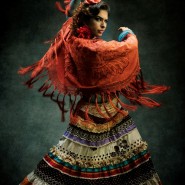 Philadelphia, PA— January 13, 2014— Philadelphia's second bi-annual Flamenco Festival will have its two-week run from March 1-16, 2014, boasting a series of lectures, film screenings, master classes and performances by internationally acclaimed contemporary flamenco artists from Spain, Israel and Pastora Galván, and Rosario Toledo.
Presented by Pasión y Arte (PyA), Philadelphia's premiere all-female flamenco dance-company, the festival will showcase new groundbreaking work by "one of flamenco's greatest mavericks," Israel Galván.  Galván will present two evenings of solo performances, and two evenings of choreographed solos—which will be danced by his sister, Pastora Galván. Modern-feminist flamenco artist Rosario Toledo will make her triumphant return to Philadelphia by presenting three performances of "TAPAS", a series of works to be developed by Toledo and performed by Philadelphia-based artists Eun Jung Choi, Meg Foley and Germaine Ingram, during Toledo's featured residency with PyA. Toledo will additionally perform "Vengo", a new performance art piece, and "Cómplices", a piece she originally choreographed for PyA during the 2012 Festival.
The Festival's educational components, spearheaded by Educational Curator, Michelle Heffner Hayes, PhD, will feature lectures and a symposium led by experts with diverse perspectives on flamenco's history, traditions, import and trajectory. Structured as an interactive discussion and supported by rich audio and visual examples, the symposium will present the work of dance scholars Lynn Brooks, Ninotchka Bennahum and Meria Goldberg. The Festival will also host screenings of critically acclaimed films that speak to flamenco's past and present. Post performance reflections will be curated and led by residency consultant/writer Brenda Dixon-Gottschild, PhD.  For newcomers, the "Flamenco for Everyone" lecture will instructionally dissect and examine complex rhythms and provide a behind-the-scenes look into the art form. Other educational opportunities include master classes with Ms. Toledo and Ms. Galván, and special master classes with Israel Galván, who has not taught a class in the United States in over a decade.
The 2014 Philadelphia Flamenco Festival is supported by cultural and educational partners throughout the city and beyond.  Drexel University's Westphal College of Media Arts and Design, Drexel University's Mandell Theater, Longwood Gardens, the Kimmel Center, International House Philadelphia, WHYY, Temple University and the Annenberg Center for the Performing Arts will all be hosting exciting festival events.
This project, "Nuevo Flamenco: The Galván Legacy," has been supported by The PEW Center for Arts & Heritage. This project has been supported by The John S. and James L. Knight Foundation. The John S. and James L. Foundation's arts program aims to engage and enrich Philadelphia through the arts.