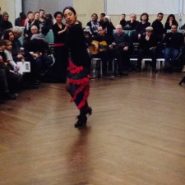 Thank you everyone who battled the icy weather yesterday to come see the performance, excerpts from Cosas de Mujeres, at the Barnes Foundation!      
The full performance of Cosas de Mujeres is April 10-12th
Leonard Pearlstein Gallery at Drexel University
3401 Filbert Str eet, Philadelphia, PA 19104
April 10 and 11 at 8pm, April 12 at 3pm
Regular price: $20. Students/Seniors: $16.