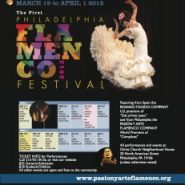 Saturday, March 24th, 5:30pm, Symposium on Women's Roles and Contributions to Contemporary Flamenco, and The Tensions Between Modernist and Traditional Approaches to Flamenco
Rosario Toledo & Co/Pasión y Arte Performances: March 22, 24, 29-31, 8pm and March 25th & April 1, 3pm
Symposium: March 24 (Free and open to community)
Flamenco Film Night: March 26 (Free and open to community)
Master Classes with Rosario Toledo: March 19th (Temple University), 27th (Swarthmore College) & 28th(Bryn Mawr College) (Free, registration required)
For Tickets and Festival Info, visit www.pasionyarteflamenco.org, info@pasionyarteflamenco.org or call 215-921-8126. Or visit the INKingDANCE's article: http://thINKingDANCE.net/articles/2012/02/29/54/Flamenco-Now
** As one of the many free events events surrounding THE FIRST PHILADELPHIA FLAMENCO FESTIVAL, this symposium presents a panel of expert panelists on Saturday, March 24th at the Christ Church Neighborhood House, Old City. This symposium will be followed by an open reception with the panelists, and the 8pm performance of the US premiere of "Del primer paso," by the internationally celebrated Spanish Flamenco artist, Rosario Toledo, and the world premiere of "Cómplices" by Rosario Toledo for the Philadelphia-based Pasión y Arte. The First Philadelphia Flamenco Festival has been supported by The Pew Center for Arts & Heritage through Dance Advance.
"According to (Belen) Maya, the most important change in the female role is the expansion of the scope of possibilities for the representation of ideas. "In traditional flamenco, you can only express two or three ideas, especially as women. You can't talk about things like loneliness, violence, fear, vulnerability…not without straying from the realm of the feminine dance. Little by little, women are changing these things."" (from Michelle Heffner-Hayes's book, Flamenco: Conflicting Histories of the Dance © 2009 Michelle Heffner Hayes by permission of McFarland & Company, Inc., Box 611, Jefferson NC 28640. www.mcfarlandpub.com.)
Possible questions that will be discussed during the symposium include:
How does Rosario's work address the above statement, and how has she expanded women's roles?
How are women changing the trajectory of flamenco, and how does this affect their artistry?
How are women redefining the aesthetics of beauty, power and feminity
How has modern choreography changed the nature of flamenco dance?
How does one maintain "duende" in an art form that has traditionally relied on improvisation and on spontaneous clues between the cantaor and/or guitarist and dancer.
How traditional is traditional?
Presenting Scholars, Artists and Panelists:
Robert H. Browning, (Executive and Artistic Director World Music Institute) founded the World Music Institute in 1985, a unique concert presenting organization which has no parallel in North America. In 2001 he co- founded the New York Flamenco Festival, an annual festival that takes place at New York City Center and other theaters in New York and has featured many of Spain's most celebrated singers, dancers and musicians In 2003 he co-produced a series of concerts of music and dance from 18 countries for the Cultural Olympiad in Greece.
Michelle Heffner Hayes, (Department of Dance at the University of Kansas) is a choreographer, dancer and dance scholar, joining the faculty of UK in the fall of 2006, where she serves as Professor and Chair. Publications by Heffner Hayes include scholarly reviews of contemporary flamenco studies (Dance Research Journal, 1996), parallels in postmodern dance improvisation and flamenco (Taken By Surprise: An Improvisational Reader, 2003), discussions of contemporary flamenco on film (Dancing Bodies, Living Histories: New Writings on Dance and Culture, 2000), and issues in cultural identity and dance (Encyclopedia of Homosexuality, 1998). Her book Flamenco: Conflicting Histories of the Dance was published by McFarland in 2009.
Rosario Toledo (Internationally celebrated Flamenco choreographer and artist) is an innovator. A master dance artist, she re-imagines traditional flamenco through layered storytelling and humor, challenging the limitations of gender roles. Initially trained in Spanish dance and Classical ballet in the Conservatory of Dance in her hometown of Cadiz, Rosario Toledo graduated from the prestigious Conservatory of Dance in Sevilla.  Toledo has worked with top flamenco artists, including Israel Galvan, Antonio Canales, Javier Latorre, Eva la Yerbabuena, Belen Maya, Manuela Carrasco, and El Guito, among others. She has collaborated with internationally renowned singers and musicians such as Jose Merce, Miguel Poveda, Duquentde, Jose Antonio Rodriguez, and Arcangel.
Lois Welk (Moderator, Director of Dance/USA Philadelphia) founded the American Dance Asylum Inc. (ADA), a producing and service organization for the performing arts, and for more than 25 years the ADA produced Welk's artistic projects among them The Parking Ramp Dances, The Train Station Dance, The Carousel Dance, The Hiawatha Island Dance and most recently Moving the Music. At 171 Cedar Arts Center (Corning, NY), Welk developed a nationally recognized presenting program that included concert dance, artists' residencies, a jazz series, family programming and a world folk music festival. In March 2007, Ms. Welk became Director of Dance/USA Philadelphia, a branch office of Dance/USA, the national service organization for professional dance.
Inés Arribas
(Interpreter) is currently teaching Spanish language, literature and culture at Bryn Mawr College. Her book titled "La literatura humorística en la España postfranquista" sees humor as a tool for questioning political, social and gender issues. She has also published articles on Spanish women writers. Her more recent research focuses on Gypsy culture and the representation of minorities in Spanish literature, cinema, and more recently, Internet and Cyberspace. She is a passionate of flamenco art.