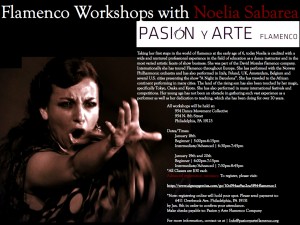 PyA is excited to announce we will be hosting Noelia Sabarea, direct from Spain, for 3 nights of flamenco workshops!
Taking her first steps in the world of flamenco at the early age of 6, today Noelia is credited with a wide and nurtured professional experience in the field of education as a dance instructor and in the most varied artistic facets of show business. She was part of the David Morales flamenco company. Internationally, she has toured flamenco throughout Europe. She has performed with the Norway Philharmonic Orchestra and has also performed in Italy, Poland, UK, Amsterdam, Belgium and several U.S. cities presenting the show, "A Night in Barcelona". She has traveled to the African continent performing in many cities. The land of the rising sun has also been touched by her magic, specifically Tokyo, Osaka, and Kyoto. She has also performed in many international festivals and competitions. Her young age has not been an obstacle in gathering such vast experience as a performer as well as her dedication to teaching, which she has been doing for over 20 years.
All workshops will be held at:
954 Dance Movement Collective
954 N. 8th Street
Philadelphia, PA 19123
Dates/Times:
January 18, 2015
Beginner | 5:00pm-6:15pm
Intermediate/Advanced | 6:30pm-7:45pm
January 19 and 20, 2015
Beginner | 6:00pm-7:15pm
Intermediate/Advanced | 7:30pm-8:45pm
*All classes are $30 each
Advanced Registration necessary. To register, please visit:
www.SignUpGenius.com/go/10C094AA9AC2EA5F94-flamenco1
*Note: registering online will hold your spot. Please send payment to:
6411 Overbrook Ave. Philadelphia, PA 19151
by January 8th in order to confirm your attendance.
Make checks payable to: Pasion y Arte Flamenco Company
For more information, contact us at: info@pasionyarteflamenco.org