PASION y ARTE presents…
Three FREE Master Classes with the innovative, internationally celebrated Spanish flamenco artist, ROSARIO TOLEDO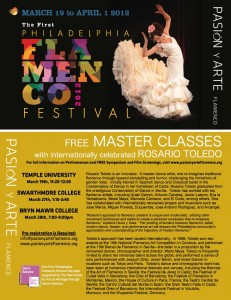 PRE-REGISTRATION is REQUIRED: info@pasionyarteflamenco.org
TEMPLE UNIVERSITY
March 19th, 11:20-12:50
SWARTHMORE COLLEGE
March 27th, 1:15-2:45
BRYN MAWR COLLEGE
March 28th, 7:00-9:00pm
For full information on 2012 FIRST PHILADELPHIA FLAMENCO FESTIVAL, Performances and FREE Symposium and Film Screenings, visitwww.pasionyarteflamenco.org.
ROSARIO TOLEDO is an innovator. A master dance artist, she re-imagines traditional flamenco through layered storytelling and humor, challenging the limitations of gender roles. Initially trained in Spanish dance and Classical ballet in the Conservatory of Dance in her hometown of Cadiz, Rosario Toledo graduated from the prestigious Conservatory of Dance in Sevilla. Toledo has worked with top flamenco artists, including Israel Galvan, Antonio Canales, Javier Latorre, Eva la Yerbabuena, Belen Maya, Manuela Carrasco, and El Guito, among others. She has collaborated with internationally renowned singers and musicians such as Jose Merce, Miguel Poveda, Duquentde, Jose Antonio Rodriguez, and Arcangel.
"Rosario's approach to flamenco creation is unique and modernistic, utilizing other movement techniques and styles to create a personal vocabulary that re-imagines flamenco," explains Hevia y Vaca. "Her probing of borders between flamenco, ballet, modern dance, theater, and performance art will deepen the Philadelphia community's appreciation and understanding of the trajectory of modern flamenco."
Toledo's approach has been lauded internationally. In 1998, Toledo won two awards at the 15th National Flamenco Art Competition in Cordova, and performed at the 10th Bienal de Flamenco in Sevilla—the latter in a production by the renowned dancer, choreographer and director, Mario Maya. Toledo is frequently invited to share her immense talent across the globe; she performed a series of solo performances with Joaquín Grilo, Javier Barón, and Israel Galvan in locations such as Tokyo and Paris. Toledo's dance and choreographic work has been seen at numerous international festivals and venues, including the Biennial of the Art of Flamenco in Sevilla; the Festival de Jerez in Cadiz; the Festival of Ciutat Vella in Barcelona; the Crec of Barcelona; the Festival of Flamenco in Monterrey, Mexico; the House of Culture in Paris, France; the Teatro Central de Sevilla; the Centro Cultural del Monte in Spain; the Gran Teatro Falla in Cadiz; the Festival Grec of Barcelona; the International Festival in Volubilis, Morocco; and the Wuppertal Festival, Germany.