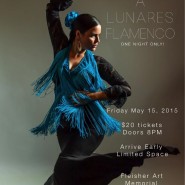 De Luna A Lunares Flamenco
This will be our 1st time at Fleisher Art Memorial!
We are going to have a wonderful group of musicians and dancers from Washington DC and New York!
It's going to be a great time! Refreshments will be available.
Space is limited so please arrive early! Doors will open at 7:30, Performance to start promptly at 8:00.

If you would like to reserve a seat ahead of time, please contact Monica Herrera via email.
Singing will be Hector Marquez and David Castellano, on guitar Behzad Habibzai, dancing Laura Castellano, Kumi Koide and Monica Herrera