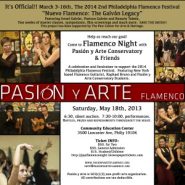 Help us reach our goal!  
Come to FLAMENCO NIGHT with Pasión y Arte Conservatory & Friends
Saturday, May 18th, 2013.  6:30, doors open.
7:30-10pm, performances.
Community Education Center 
3500 Lancaster Ave, Philly 19104
Ticket INFO: 
http://pyaflamenconight.brownpapertickets.com
A celebration and fundraiser to support the 2014 Philadelphia Flamenco Festival, thanks to the generous support of the Pew Center for Arts & Heritage and The John S. and James L. Knight Foundation.  Your support will allow us to offer free and low cost events to the public that include the master classes, symposium and movie screenings, as well as discounted ticket pricing.  We look forward to your help in making the 2014 Festival most accessible to all. (More info about the 2014 Festival below).
Be sure to see the Knight Foundation's spotlight on Pasión y Arte:
http://www.knightfoundation.org/grants/20123068/
ABOUT THE FUNDRAISER:
Saturday, May 18th, 2013 
Featuring New York based Flamenco Guitarist, Raphael Brunn, Pasión y Arte Conservatory Students and more featured guest throughout the night.
6:30, silent auction.  7:30-10:00, performances. Raffles, prizes and refreshments throughout the night.
TICKET INFO:
$50, for Two
$30, General Admission
$15, Student/Children
FEATURING SILENT AUCTION DONATIONS BY:
A Festival Package that includes complimentary tickets to the festival, attendance to private receptions with such artists as Israel Galvan, and more!
Plate 3 photography
Dancing Chefs
Chi Movement Arts Center
Vervet Dance/Creative Movement with Loren Groenendaal
Authentic Wu Tang Kung Fu with Sufi Chik Mason
Flamenco, Yoga and Alexander Technique Lessons
and more!!!
MORE ABOUT THE 2014 FESTIVAL:
March 3-16th, "Nuevo Flamenco: The Galván Legacy" 
Featuring Israel Galván, Pastora Galván and Rosario Toledo,
Two weeks of master classes, symposiums, film screenings and much more.
The 2014 festival will include four performances by the Galváns, who represent both the legacy of Sevillan flamenco and the influential, cutting edge of contemporary flamenco innovation, with an additional four performances comprised of works from Rosario Toledo, the featured dancer-choreographer of the 2012 Philadelphia Flamenco Festival and recipient of Best Show at Sevilla's 2012 Biennial de Flamenco; as well as master classes, film screenings, and lectures and panel discussions on the changing landscape of flamenco.
Pasión y Arte is 501(c) (3),non-profit arts organization.  All contributions are tax-deductible, and will be acknowledged in the Flamenco Festival performance program showing your commitment to Pasión y Arte and the art of Flamenco.