PASION Y ARTE PRESENTS PHILLY TABLAO AT THE ASIAN ARTS INITIATIVE
Supported Through PNC Arts Alive, Philly Tablao Features Philadelphia's Top Flamenco Companies and an Array of Special Guest Artists from Spain and Across the U.S.A.
Pasion y Arte (PyA) is excited to announce Philly Tablao, Philadelphia's
first ongoing Tablao over four weekends starting in October 2015 at the dynamic Asian Arts Initiative black box theater located at 1219 Vine Street in Philadelphia, sponsored through PNC Arts Alive. The program will be presented quarterly featuring PyA and other Philadelphia flamenco companies as well special invited flamenco artists from Spain and US in performances presenting unique interpretations of flamenco in an intimate setting where wine and tapas will be served.
When: October 29th, 3oth, and 31st 2015, from 8p.m. to 11p.m.
Where: Asian Arts Initiative, 1219 Vine Street, Philadelphia, PA 19107
Tickets: Ticket information and how to purchase will be available on August 17.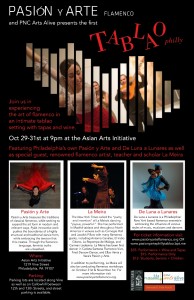 What is a Tablao?
Like the atmosphere once created when beat poets gathered to recite verses, Tablao refers to the casual venues where flamencos showcased their dancing until the art was institutionalized in theatrical performances. Flamenco emerged as a unique art form in the 15th century. Spanish Gypsies (or Roma) danced flamenco privately in their rural homes. The dance gradually migrated from the countryside to the cities in the south of Spain, where Gypsy artists performed on the streets and in plazas. By the 1840s, nightclubs called "Cafes del Cante" began to host flamenco Tablaos, giving flamencos the opportunity to demonstrate their extraordinary skills at improvising movement within the confines of strict musical and rhythmic structures. The cafes were the first enterprises to pay flamenco dancers, singers, and musicians and commercial flamenco was born.
From the mid-1800s to the early 1900s, highly acclaimed flamenco artists danced in Cafes del Cante. Tablao performances helped flamenco to grow in expressive range and aesthetic precision, exposing non-Gypsy audiences to the art form. Philly Tablao will recreate the feeling of the Tablao setting, using the intimacy offered by the Asian Arts Initiative black box theater. While contemporary Tablaos exist in the U.S., Spain, Japan, and many countries in Europe, there is not yet one in Philadelphia, despite its vibrant Latino, flamenco and dance communities and devoted audiences. Philly Tablao will expose Philadelphia audiences to the intensity of this art form in a traditional/jazz intimate format. Philadelphian's who are interested in Spanish culture, heritage and art will be invited to mix and mingle with each other and the flamenco artists in this informal intimate setting. Whether they are seasoned spectators of the dance or entirely new to its traditions, the spirited gathering of the Tablao setting has much to offer the city's citizens, who, in turn can learn about the art form and each other by coming and sharing together this passionate art form.
Each Tablao performance will be 90 minutes with two 10-minute intermissions between three sets for tapas and wine. Performances will run
Thursday – Saturday from 9pm – 11pm
, featuring Pasión y Arte dancers, other Philly flamenco companies and very special guests from Spain other US cities.
It is through the generous support provided as part of the PNC Arts Alive initiative that we are able to bring Philly Tablao this innovative program to the nightlife of Philadelphia.