Share
Pasión y Arte Flamenco Company presents, "El Proceso/The Process"
A Work in Progress of new choreographic work by the internationally celebrated Flamenco artist, Rosario Toledo.
"Witness Pasión y Arte's raw and informal performance of its first commissioned work by the innovative, world-renowned Flamenco artist, Rosario Toledo. This laboratory style offering gives an intimate peek into this experimental phase as it evolves, before the world premier at the March 2012 First Philadelphia Flamenco Festival."
Documentary footage by Lise Raven of Ms. Toledo's three week residency with PyA will be presented at this festival. For further blog entries and photos by the dancers, collaborators and designers, please visit PyA's blog: heviayvacaflamenco.blogspot.com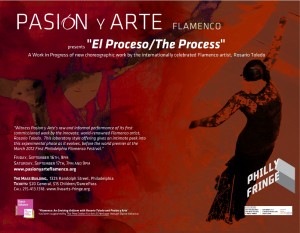 Friday, September 16th, 9pm
Saturday, September 17th, 7pm and 9pm
The Maas Building 1325 Randolph Street, Philadelphia Tickets: $20 General, $15 Children/DancePass Call:
215.413.1318
.
livearts-fringe.org
"Flamenco: A Look at an Evolving Art Form with Rosario Toledo and Pasión y Arte," has been supported by The Pew Center for Arts & Heritage through Dance Advance.