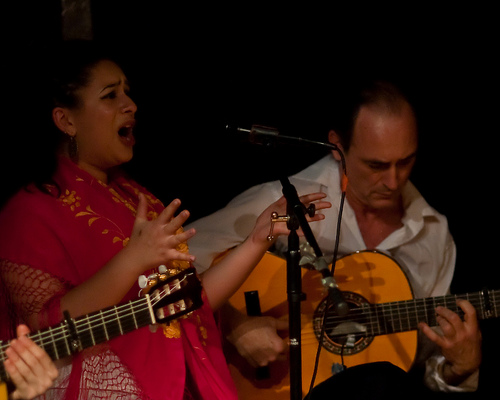 Come join us on this Tablao/Juerga with Anna Rubio and her Flamenco del Encuentro
Share

Time: Friday 6 at 7:30 pm
Location:

Bar Ferdinand

1030 North 2nd Street (2nd just above Girard) Philadelphia, PA  19123
Please join us for a very special evening- many people are unaware that our very own flamenco cantaora ANTONIA CRUZ ARIAS
was only in Philly's CENTRAL HIGH SCHOOL when she was first blowing us all away singing for us, and many important flamenco artists like Antonio Hidalgo, Inmaculada Ortega, Edwin Aparicio and Nelida Tirado, and appearing on television and radio….she was born and raised in flamenco and studied in Sevilla, Jerez and half a year in Madrid with living legend Talegon de Cordoba.
Flamenco del Encuentro features Spanish-born, Pew Fellow flamenco guitarist Tito Rubio, who has performed world-wide accompanying important flamenco artists from Spain, San Francisco born, heritage Flamenco singer (cantaora) Antonia Cruz Arias,who has sang her entire life and trained extensively in Spain, and dancer Anna Rubio-born in Philadelphia, trained in San Francisco and Spain. Together they have performed in venues ranging from Annenberg Center, Painted Bride Theater, Trump Plaza (Atlantic City) to Universities and restaurants including a two-an-a-half year gig at Amada Restaurant, where they often incorporated visiting artists from Spain. They have also collaborated with Middle Eastern music and dance artists and Tap artists. Anna teaches flamenco at the University of the Arts and the CHI Movement Arts Center.
"No sólo me he arrimado sino que he estado varias veces en la enfermería con cornadas graves por mi compromiso con el flamenco"
JOSÉ ANTONIO RODRÍGUEZ