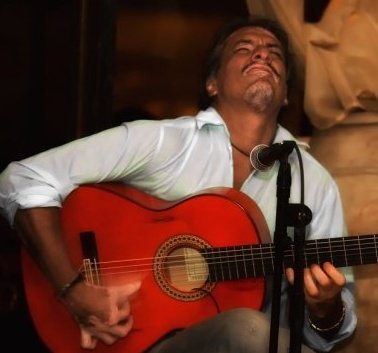 Cristian Puig was born in Buenos Aires, Argentina. Son of Gloria Monreal, Flamenco singer and Pablo Puig, Flamenco guitarrist. When he was 19 years old, Cristian began his studies in classical guitar at the conservatory of Manuel de Falla as well as flamenco guitar with his father. Soon he took classes in flamenco guitar with Quique de Cordoba and furthered his studies in jazz, bosa nova and contemporary music with various teachers.
He has been self-taught ever since, using his musical influences and inspirations as his guide. His strongest inspirations include his parents Gloria and Pablo, Paco de Lucia, Juan M. Canizares, Sabicas, Gerardo Núñez, Astor Piazzola, Dino Saluzzi, C.F. Gomez, Egberto Gismonti, Hermeto Pascual, Chick Corea, John Mclaughlin and John Coltrane. From 1985 to 2000 Cristian has been integrated into various groups and flamenco companies performing in various tablaos, restaurants, cultural centers and theaters. In 1990 he formed the flamenco fusion group Rabat. Rabat appeared in various theaters and venues in Argentina and later went on to travel to various countries in South America including Uruguay, Brazil and Chile. Looking to fuse jazz and bossa nova with flamenco, Cristian integrated instruments such as the piano, electric guitar and saxophone, experimenting with his original compositions. In 1993 Gloria Monreal joined Rabat as a flamenco singer and Cristian worked and learned from her for the following 12 years. Gloria has shared the stage with several artists including Los Pericet, Orlando Romero, Maria Amaya, Antonio Maya, La China, Mario Escudero, Esteban de Sanlucar, Salinas, El Morito and Pepe Alonso. In 1996 Cristian joined Chango Farias Gomez and worked throughout Argentina for 3 years. Cristian can be heard on "Chango Farías Gomez y la Manija" CD, recorded in the Astral Theater in 1995. Cristian dissolved the group Rabat in 1997 to dedicate himself to work as a soloist but still collaborating with other local and foreign musicians, fusing bossa nova, jazz and Argentine tango. In 2000 Cristian was asked to travel to New York to make his debut at Alegrias tablao. Since then Cristian has been working and composing music for local and foreign artists and companies. At the present time he is working on recordings of his own compositions. He has currently co-founded De Luna a Lunares ensemble. Cristian has composed music and worked with various companies. Cristian continues to work as a solist, composes music for flamenco companies and offers private insruction. He also works as a flamenco singer, interpreting the traditional and modern flamenco styles.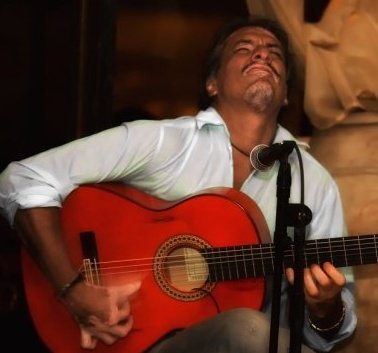 Cristian is currently working on different projects, finishing the new CD Entre Cuerdas, a flamenco-jazz fusion CD with guitarrists Hernan Romero and special guest artist Al Dimeola. Cristian is olso working on the composition and recording for the film "The Last Quartet". His  new flamenco trio Puig-Sanchez-Moreno can olso be seen in various tablaos throughout New York City.
Contact Cristian at
(646) 239-7308
by email
cristian_puig@yahoo.com
or visit his Web site